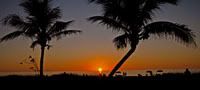 The first day we were in Fort Myers, we went to Sanibel/Captiva Island. It was a nice drive. We also got some of our first pictures at Ding Darling Wildlife Preserve.
We then drove north on the road connecting Sanibel/Captiva, looking for a place to park and take some pictures of the sunset. While the gulf front is "public" land, there was absolutely no place to park. So I took several pictures while Mitch was driving.
This is a sunset from Captiva Island, taken while Mitch is driving south and I am shooting out the window on the passenger side. You can see some people have set up for a sunset viewing. (If you click on the image it will upload the complete panorama.)
It was an absolutely beautiful sunset.
I love sunrises as they bring a new day. I also love sunsets – they are so beautiful!
Hope you enjoy this one as well.